2018
Sunday 19th August 2018
North West Fungus Group foray at Clock Face Country Park, St. Helens, the site of a defunct colliery. Despite the unpromising ground conditions and the threat of Storm Debby, twelve forayers attended. Fortunately, Debby failed to turn up.The morning was disappointing, a hilly section which was very dry. However, after lunch we visited a mixed woodland and came across a very large fire site which had the remains of a  lots of burnt trees and branches. This kept the Group occupied for over an hour. Finds included Anthracobia maurilabra and melaloma growing together, a Trichophaea species, a couple of other Ascomycetes as yet unidentified and a Tomentella species. Other finds for the day include Tephrocybe confusa, Chroogomphus rutilus (Copper Spike) Auriscalpum vulgare (Earpick Fungus) and the Russulas velenovskyi (Coral Brittlegill) and aeruginea (Green Brittlegill). Over fifty species which is pretty good for the time of year, especially this one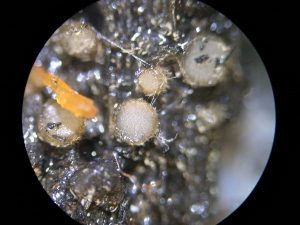 12th August – Loggerheads Country Park   (Awaiting  Report)
A great turn-out for our Loggerheads walk – report will be posted soon
24th June – Moor Piece NR
This was a select affair – 6 starters and 5 finishers- but a very enjoyable and fungally fruitful day.  Like most places in this drought, the site was exceptionally dry but given that it is usually sopping wet there were still plenty of damp places and the final species tally is somewhere between 25 and 30.  This includes several species usually confined to Sphagnum moss including Tephrocybe palustris (Sphagnum Grayling), Galerina paludosa (Bog Bell) and Hypholoma elongatum (Sphagnum Brownie).  We even found a few Russula –including R. claroflava  andj R. betularum that are typical of damp, acid areas with birch.  On a reccent visit the day before the foray IR also found a less common Russula – R. robertii among mosses beside a ditch and with birch ad oak; it was brown and keyed out with the Kibby key plus Sarnari's tome but the spores needed checking.
Finds of the day were the 'skirted stinkhorn' Phallus duplicatus, first spotted by new member Philip Larkin and originally recorded at the same site (under conifers) in 2012 when it was new to Britain.  Geoffrey Kibby identified it and we've found it here every year since , a stinkhorn with a dome-like skirt below the fruiting head (and for various reasons not the togatus variety of the common stinkhorn.  Then there was a less common Tephrocybe, T. tylicolor, found and identified by Tim Rogers in Sphagnum (but not confined to this):  it looks rather like a pallid Mycena (Bonnet) but with a flaky stipe.  And finally there was a lovely orange-red eyelash fungus Scutellinia olivascens. This was found by George Clarkson on peaty mud and identified by IR using Brian Spooner's 2012 key and Mal Greaves's wonderful TomBio key plus several Ascofrance posts on the internet.  It has shortish brown marginal hairs and the spores have low warts with some interconnections.
So altogether a most satisfying day – good fungi, good weather and good company- what more could you ask!
Irene Ridge
30th June – Risley Moss – Green Safari Day
Tom & Lynne Flying the Flag for North West Fungus at The Green Safari Day
2017
A LATE FORAY AT FORMBY
North West Fungus Group held their last foray OF 2017 at Lifeboat Road, Formby on the 12th November. This area and Ravenmeols have now been transferred from Sefton Council to National Trust. The visit was later in the year than usual. It was a day of a fresh, biting wind and a hailstorm.
A quick visit to Ravenmeols Sandhills Nature Reserve was rewarded with a large group of Tulostoma brumale (Winter Stalkball) in the sand amongst the Marram. This species is common along the coast but difficult to spot as the stalk is usually buried and they look very much like rabbit droppings.
Even better was finding the much rarer Tulostoma melanocyclum (Scaly Stalkball) on a mossy bank only a short distance away. It was regularly recorded at Ainsdale Sand Dunes Reserve some years ago but it disappeared.
T. melanocyclum and T. brumale
For last year you can see what we found Here  Species List 2017